The 12th Göttingen International Ethnographic Film Festivalwill take place from 28 May to 1 June 2014
The festival promotes documentary cinema with a special emphasis on new films, videos or interactive media (published after 1.1.2011) dealing with socio-cultural processes in a wide sense of the term.
The festival is open to all filmmakers, but especially those coming from an anthropology, sociology, folklore, history etc. background . It provides a great opportunity for international exchange of ideas and co-operation in documentary filmmaking.
---
Göttingen International Ethnographic Film Festival 2012
It started as usual with the student film competition, one of the central events of the festival, on Wednesday afternoon at 1.30 pm. The main festival opened Thursday afternoon at 2 pm.
This year's special topics of the festival were:
Coping with Crises
Migration and its Consequences
Participatory - What Does it Mean?
Further information on the festival 2012 ...
---
The Student Award went to the film
Looking at Themselves - Babaluda Luda by Mihai Andrei Leaha, Romania.
Romania, 2011, 34 min
Location: Romania: Aveyron
Production: Mihai Andrei Leaha
Abstract:
The protagonists of a documentary are recorded while watching their shared ethnographic experience. The feedback provided by these people supports the understanding of the ethnographic representation. The film attempts to question the ways in which the visual narrative is constructed when using the feedback method. Special focus is put on the Babaluda Feast in Romania and its visual ethnographic representation. The use of the chronotopic montage technique by Bakhtin helps to construct a concurrent unity of time and space. Thus, it creates an illusion of watching the film together with its participants.
---
Two recommendations were given to the films.
---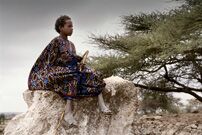 The Centro Incontri Umani donated an Award for the best film on crises and their consequences – personal crises, natural crises, manmade crises .... The CIU Award went to the film
The Well - Water Voices from Ethiopia by Mario Michelini, Riccardo Russo, Paolo Barberi, Italy.
Italy, 2011, 56 min
Location: Ethiopia
Production: Esplorare la Metropoli
Abstract:
The Horn of Africa is a region of the world which periodically faces terrible droughts. Each year when the drought reaches the dry Oromia lowlands in the south of Ethiopia, the Borana herders gather with their livestock around their deeply dug wells. With its strong photography and its epic narrative style, the film follows the people's daily lives during the entire time of a dry season. It shows a unique traditional water management system that allows to manage the small amount of water as the property and right of everyone without any exchange of money.