The 11th Göttingen International Ethnographic Film Festival will take place from 9 to 13 May 2012
The festival promotes documentary cinema with a special emphasis on new films, videos or interactive media (published after 1.1.2009) dealing with socio-cultural processes in a wide sense of the term.
The festival is open to all filmmakers, but especially those coming from an anthropology, sociology, folklore, history etc. background . It provides a great opportunity for international exchange of ideas and co-operation in documentary filmmaking.
---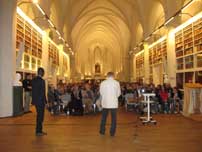 2010 GIEFF celebrated a jubilee:
it was the 10 edition being founded in 1993
It started as usual with the student film competition, one of the central events of the festival, on Wednesday afternoon at 1.30 pm. The main festival opened Thursday afternoon at 2 pm.
This year's special topics of the festival were:
Situation and Developments in Eastern Europe
Coping with Global Change
Cultural Heritage in Focus
Further information on the festival 2010 ...
---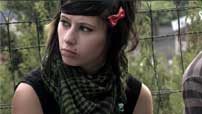 The Student Award went to the film
As Long as the Mines Whistle, the Crops Will Dance by Marie Devuyst, Belgium.
Belgium, 2009, 56 min
Location: France: Aveyron
Production: Marie Devuyst
Abstract:
In Cransac, there were the mines. Only yesterday, coal still was the rhythm of life in this little town, where working class and rural cultures blended together. Then, the pick-axes stood silent. The film takes us into the everyday life of two families, a rural one, the other one working class. The grand-parents tell us of the Cransac of yesteryear, bearing witness of the dazzling evolution of the world that surrounds them. For the younger ones, everything is left the task to rebuild. Through these souvenirs and everyone's projects, it is the story of Cransac's valley that is being told.
---
The Centro Incontri Umani donated an Award for the best film promoting intercultural understanding in the context of natural disasters or human conflicts. The CIU Award went to the film
The Bagyeli Pygmies at the Fringes of the World by François-Philippe Gallois, France.
France, 2009, 87 min
Location: Germany: Göttingen
Production: Les Productions Contact
Abstract:
"Before, we were poor but we didn't know it because we lived contently in the forest". Discovering the outside world the Bagyéli Pygmies have seen that they are very poor. Angeline, Marcelline and Pascal are 3 Pygmies who have discovered cars, solid houses and money, and strongly resent that they don t have the right to all that. Following their personal dreams, they encounter the complexities of change that the world imposes on hunter-gatherers. And through their point of view, the film tells us of a story about a small population that doesn't want to disappear.