The 13th Göttingen International Ethnographic Film Festivalwill take place from 4 to 8 May 2016
The festival promotes documentary cinema with a special emphasis on new films, videos or interactive media (published after 1.1.2013) dealing with socio-cultural processes in a wide sense of the term.
The festival is open to all filmmakers, but especially those having a background in anthropology, sociology, folklore, history etc. It provides a great opportunity for international exchange of ideas and co-operation in documentary filmmaking.
New Submission Deadline: December 31, 2015
---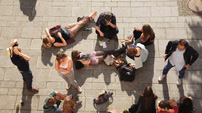 Göttingen International Ethnographic Film Festival 2014
It started as usual with the student film competition, one of the central events of the festival, on Wednesday afternoon at 1.30 pm. The main festival opened Thursday afternoon at 2 pm.
This year's special topics of the festival were:
Disability and Psychological Problem
Migration and Belonging
Women's Perspectives
Further information on the festival 2014 ...
---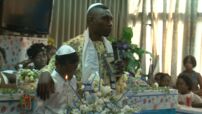 The Student Award went to the film
Holyland by Anna Somershaf, Israel.
Israel, 2012, 54 min
Location: Israel; Ghana
Production: Anna Somershaf, Orit Gottlieb
Abstract:
When Solomon Tetteh went to Israel for the first time on a pilgrimage, his plan was to return to Ghana. But in life the unexpected can happen. He found his vocation in Israelto be a priest for a migrant workers' community in Tel-Aviv. Solomon normally is a cheerful person, looking into the faces of his community fills him up with love. Just sometimes he is sad. For his vocation he had to leave behind his old life in Ghana, his eldest son and the son he had lost due to illness. In this film we accompany him when he returns to Ghana re-uniting with his son and we become witnesses when Solomon recognizes the time he had lost with his son because of his absence.
---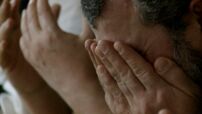 A second Student Award was given to Christian Suhr Nielsen in recognition of his contribution in Visual Anthropology and his film Descending with Angels.
Abstract:
Islamic exorcism and psychiatric healthcare in Denmark – two systems of treatment that share a view of healing through submission of faith to an external non-human agency, namely God or biomedicine. The film shows a Palestinian refugee in Aarhus, who has been committed to psychiatric treatment after destroying cars and a mosque. He sees no point in psychotropic medication since his illness has already been treated with Quranic incantations. In the meantime, a local imam battles with a stubborn jinn-spirit and tries to explain that the Muslims of Aarhus should stop worrying about jinn, magic and other mundane affairs since nothing can harm anyone except by the permission of God.