Report on the 12th Göttingen International Ethnographic Film Festival
May 28th - June 1st, 2014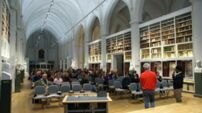 The festival is organised by an association, founded in May 2007.
The festival takes place in the heart of Göttingen.
The festival is founding member of CAFFE - Coordinating Anthropological Film Festivals in Europe.
The Festival Programme was composed by an international selection committee, including former and new members. More than 480 media had been submitted. 55 films and media presentations were selected, 29 for the student category, 29 for the main festival..
As every year, the student film competition was of special interest and many commented on the very good quality of the films. Beside the presentation of new productions the festival had three main topics: "Migration and Belonging", "Disability and Psychological Problems", and "Women' Perspectives".
Following the festival the Rountable "FILM as Discourse" took place.
---
The Student Award was sponsered by Litfin-Stiftung and went to the film:
Holyland
by Anna Somershaf, Israel 2012
When Solomon Tetteh went to Israel for the first time on a pilgrimage, his plan was to return to Ghana. But in life the unexpected can happen. He found his vocation in Israelto be a priest for a migrant workers' community in Tel-Aviv. Solomon normally is a cheerful person, looking into the faces of his community fills him up with love. Just sometimes he is sad. For his vocation he had to leave behind his old life in Ghana, his eldest son and the son he had lost due to illness. In this film we accompany him when he returns to Ghana re-uniting with his son and we become witnesses when Solomon recognizes the time he had lost with his son because of his absence.
---
A second Student Award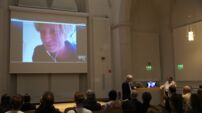 was given to Christian Suhr Nielsen in recognition of his contribution in Visual Anthropology and his film Descending with Angels.
Islamic exorcism and psychiatric healthcare in Denmark – two systems of treatment that share a view of healing through submission of faith to an external non-human agency, namely God or biomedicine. The film shows a Palestinian refugee in Aarhus, who has been committed to psychiatric treatment after destroying cars and a mosque. He sees no point in psychotropic medication since his illness has already been treated with Quranic incantations. In the meantime, a local imam battles with a stubborn jinn-spirit and tries to explain that the Muslims of Aarhus should stop worrying about jinn, magic and other mundane affairs since nothing can harm anyone except by the permission of God.
---
Discussing Films, Discussing Filmmaking, Exchanging Ideas
Films from everywhere
55 films and 3 multimedia productions from filmmakers from 28 countries telling stories about people in 36 countries were presented.
230 permanent guests from 23 countries, from all over Europe, but also from Australia, India, Israel, Japan, Mexico, Taiwan, Tunesia, and USA visited the festival.
New topics coming up
Migration is a topic which is discussed in many films since years. It seems to touch us all and to affect us all. Many films had migration as the main topic, but in many more films it was present somehow.
A new topic was disability . How can blind people play chess or how do they imagine the world - questions put forward in two films.
Another topic which emerged was: How does a society cope with psychological problems coming into being out of various reasons. It was a quite impressive and depressive bloc Thursday afternoon when three films discussed this topic.
Many films where related to the topic of women's perspectives , perspectives of women in the film, perspectives about women, and perspectives of the female filmmakers. It's an old topic, but the amount of quite diverse films was impresive.
Lively discussions
Filmmakers from all over the world presented their work at the festival.
After each film there was some time for questions and answers.
Young vistors as well as filmmakers present were questioning the filmmaking and the content of the films.
Multimedia presentations
The festival is very much interested in new forms of working with and publishing of moving images.
This year three productions were selected for the festival and presented by the filmmakers and producers.
Presentation Website
LA VIE DU RAIL. A Railway Line in Mali as Transitory Space
Anna Lisa Ramella (German / Italian) 2012
A railway line in Mali as transitory space" retraces the Malian part of the former Dakar-Niger railway line using different forms of media. It draws out the interaction of individuals and circumstances within constant transit. Audio-visual methods are being combined with text in order to preserve the complexity found in the field. An individual travel through the material can be perceived by traversing various stations of the train. The permanent movement of transit at the same time results in the stability of the people working in the train. Personal narratives and observations illustrate the reflections on spaces, non-spaces and transitory spaces.
Presentation of Exhibition and Website
Movements of Migration – Archive of Knowledge
Produced by: Sabine Hess, Torsten Näser, Malte von der Brelie, Birgit Ehret, Dorothée Jankuhn, Josephine Macfoy, Wiebke Unger, Franziska Weidle (all German) 2012
Publicly shown in March 2013 in Göttingen's inner city, the exhibition 'Movement of Migration' uncovered suppressed stories of migration and migrants as part of Göttingen's history. The exhibition was a result of a student research project of the Department for Cultural and Visual Anthropology of Goettingen in cooperation with artists and the Council of Integration. A digital archive is being developed from this exhibition, which should help to put issues of migration lastingly into public awareness.
http://www.movements-of-migration.org/cms/ (only German)
Presentation of Interactive Computer Installation
RhyCycling Fluid Borderland
Flavia Caviezel (Swiss) 2012
'Rhycycling' examines the border region of Switzerland-Germany-France along the river Rhine, focussing on how human and non-human environments are linked together. It is designed as an interactive computer installation with short videos, sound essays, quotations and graphics. The aim of this project is to provide an inside view into the network, the interdependencies and unbalances of this ecological microcosm with local and global relevance. The edited material of this research is organized on an interactive computer platform. Users do have the possibility to build their own dramaturgy clicking through the material and so create their own reception storylines.
---
Talking about, looking at, relaxing from films
The videolibrary was a meeting point for all, those who would like to talk, those who want to see more films, also films which were not selected for the festival.
In the cafeteria and outside the audience took a chance to relax, but also to meet the filmmakers and to interview them.

Roundtable: FILM as Discourse
The participants of this year's roundtable will be discussing questions of the current and future role of (anthropological)documentary film in public as well as academic discourse. In debating if there is something like visual anthropology and whether they should care about it they will be also touching on the differences between filming and writing.
Organised in collaboration with
AG Visuelle Anthropologie der Deutschen Gesellschaft für Völkerkunde (DGV)
Visual Anthropology Section of the German Anthropological Association
Hosted by Andreas Ackermann (University of Koblenz, Speaker of the Visual Anthropology Section)
Participants:
Martin Gruber (University of Bremen, Germany)
David MacDougall (ANU, Canberra, Australia)
Anna Ramella (University of Bremen, Germany)
Christian Suhr (University of Århus, Denmark)
Hu Tai Li (Academia Sinica, Taipei, Taiwan)
Ivana Todorovic (freelance, Belgrade, Serbia)
---
Many thanks to those who moderated the sessions
Many thanks to the festival staff
The festival is supported by the many helpers as there are the interns preparing the selection process, preparing the festival itself, running the festival office and the video library, attending the press, and most important managing the screening.
There also many students helping whereever help is needed in the cafeteria, in the entrance, and driving our guest from here to there.
---
Travelling GIEFF
Since several years our festival films are travelling through out Germany and the world, very often they are shown at conferences or in seminars at the university, sometimes also at local cultural events.
If you are interested to organise a Travelling GIEFF please let us know: event@gieff.de
2. Ethnographisches Filmfestival Trier - Blickwinkel 4.-5.2.2015